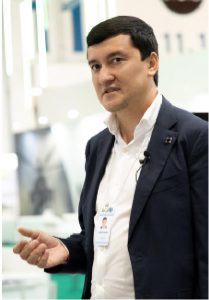 The Chief Executive Officer of Inkas Vehicle LLC based in the United Arab Emirates has said that the pandemic is the reason they have not launched their operation in Nigeria as they promised they would in 2020. Due to the scourge of the Coronavirus pandemic, the launch was put on hold.
"We were ready to launch the factory and start operation in 2019. But as you know the COVID-19 pandemic has changed everyone's plans. But we were obliged to adapt to the current situation, adopt a new business model and postpone the grand opening," said Ulugbekhon Maksumov through the company's spokesperson.
Speaking further on the pandemic, the spokesperson adds, "The COVID-19 pandemic has divided the business behavior into before, during and after, and for sure Inkas Vehicles has been hit by the given situation as well. Mr. Ulugbekhon has chosen the way to keep promises to the clients as pandemic threats are still there and to take good care of his team members by arranging for them a safe environment to live and work in. We are not going to be talking about single charity cases in which he gets involved as a personality as he doesn't really like to make it public. He does it for himself, not for acknowledgment."
On the question of the vaccines given skepticism and criticisms that have greeted it with some of the population of the world expressing doubts about the real intent behind it, Mr. Ulugbekhon Maksumov opined that the issue is a personal one.
"I believe it's a personal choice for everyone. We all have the right to believe in it or not, we have the right to choose which one of it to prefer over another, and we have the right to decide when we want to proceed with vaccination once we are sure of its safety. I just hope there will be no legal enforcement in getting the population vaccinated," he said.
Inkas Vehicles LLC has become a world leader in the production of first-class armored vehicles that are certified in accordance with international standards.
The wide range of specialized products includes luxury armored SUVs, sedans, buses, armored personnel carriers, cash-in-transit vehicles, and a range of special purpose vehicles used by governments, military companies and individuals, VIPs, and international organizations
Born September 9, 1979, Ulugbekhon Maksumov, grew up in Margilan, Republic of Uzbekistan. Now he is a successful entrepreneur – CEO/Founder of a number of companies, including Inkas Vehicles LLC, well known for manufacturing armored vehicles in Dubai, UAE with a revenue of 300 million dollars yearly.
In 2018 it was recorded that Maksumov net-worth was "100 million dollars" and the brand Inkas is recognized across Middle East, Europe, and some parts of Africa like Ghana and Nigeria.
He started his journey as a supply chain manager in 2002/2003 at GM Korea before moving to Dubai where he achieved his dream and eventually broke into the UAE marketing chain, dominating the armored vehicle's terrain.